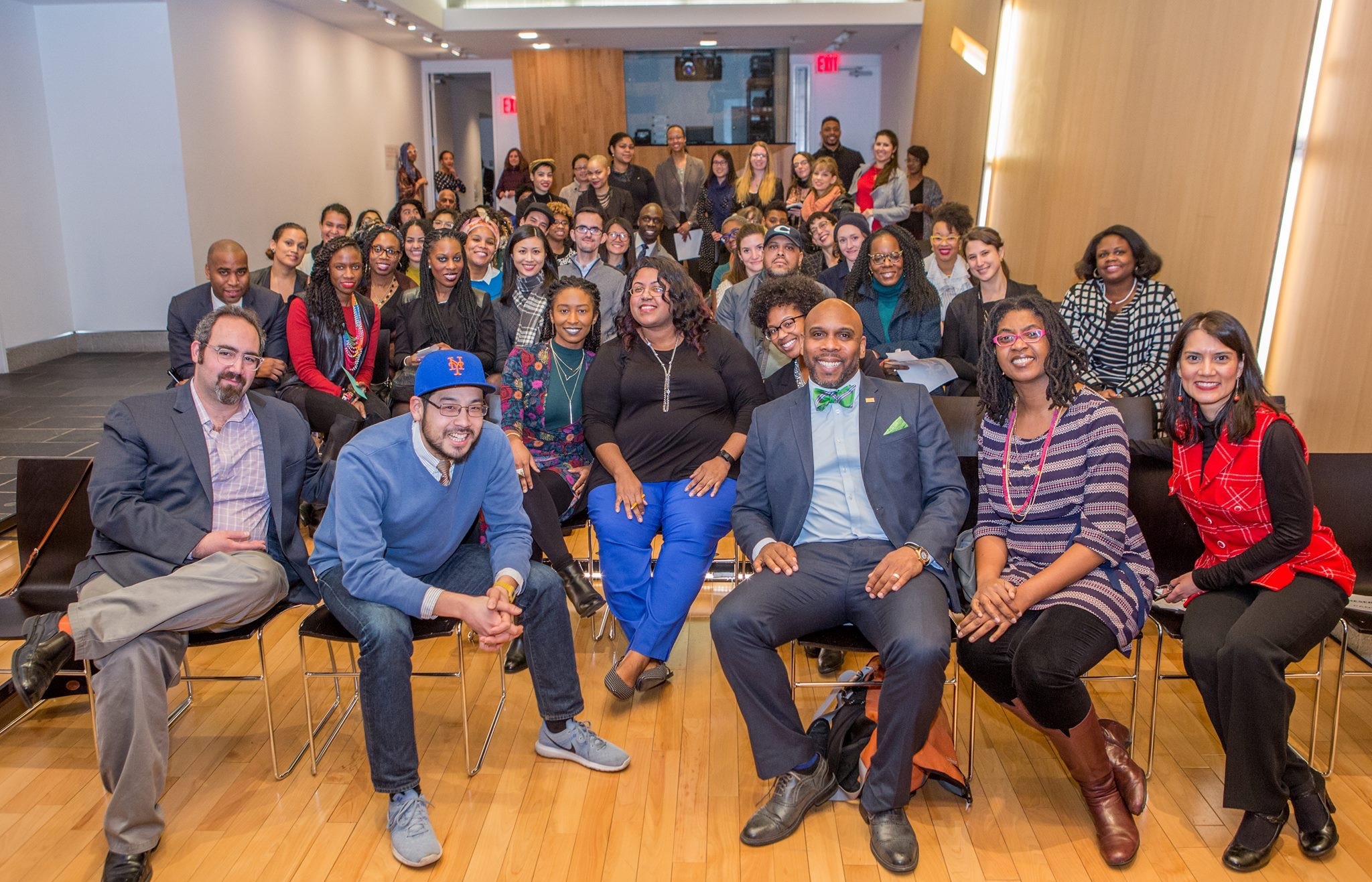 Huers
Museum Hue membership provides access to career opportunities, programs (Hueseum tours, Hueniversity workshops, Huesday tweetchats, and Huenity mixers), exclusive cultural events, VIP passes to select art fairs, mentorship, as well as access to our community directory. Our members include artists, arts administrators, cultural producers and seekers, historians, curators, nonprofit professionals, students, educators, entrepreneurs, etc. Museum Hue helps people of color in and outside the arts field to connect, collaborate, cross-pollinate, socialize, and network with one another to create an interdisciplinary dialogue. Members events will be featured on our multiple media-channels and sent in our mailing list.
Member Jobs Updated as of August 10th - Join our Linked In Group: https://www.linkedin.com/groups/8291014
Crystal Bridges Museum of American Art, Traveling Exhibitions Manager,
https://www.paycomonline.net/v4/ats/index.php?/job/apply&clientkey=BC9586F35E70BD74D59EC08D93D8EDD5&job=8411&jpt=
Crystal Bridges Museum of American Art, Curatorial Assistant, Contemporary Art
https://www.paycomonline.net/v4/ats/index.php?/job/apply&clientkey=BC9586F35E70BD74D59EC08D93D8EDD5&job=8146&jpt=
Cooper Hewitt Smithsonian Design Museum, Curatorial Research Assistant (American Art)
https://www.cooperhewitt.org/careers/curatorial-research-assistant-american-art-2/
Eastern State Penitentiary Historic Site, Visitor Services
http://www.easternstate.org/jobs/specialist-visitor-services.
Eastern State Penitentiary Historic Site, Seasonal Guest Support Assistant at Terror Behind the Walls
http://www.easternstate.org/jobs/seasonal-guest-support-assistants-terror-behind-walls
Hue Tip: Seeks an outgoing, engaging, and creative professional for the position of Specialist, The deadline for applications is Friday, August 17, 2018 at 5 PM.
Whitney Museum of American Art, Senior Coordinator of Trustee Affairs
Reporting to the Chief of Staff, the senior coordinator is responsible for the smooth operation of the day-to day and long term activities of the Trustee Office.
· Schedule and coordinate all full Board, Executive Committee and Trustee Standing and Ad Hoc Committee meetings.
· Handle all meeting preparation with Trustees including meeting logistics; prepare agendas and related material and coordinate presentations
· Attend all Board and Committee meetings
· Review Board Meeting minutes prepared by General Counsel
· Responsible for recording minutes at Board Committee Meetings
General Trustee Affairs
· Act as the primary point of contact for each Trustee and their assistants/office and respond expediently to daily requests
· Work with the Chief of Staff to prepare all Trustee communication including but not limited to: monthly trustee newsletter, emails about Trustee meetings, communication related to Museum events and Whitney related press or announcements
· Manage mailings of exhibition catalogues and draft accompanying letters
· Oversee the publication of the Trustee Handbook annually
· Coordinate new Trustee orientation and annual Trustee
· Responsible for upkeep of Trustee website, paper and electronic files and archives
Requirements
· 3-5+ years' experience in museum and/or non-profit
· Strong interpersonal skills, friendly, confident
· Superior oral and written communication skills
· Poised under pressure
· Organized and detail oriented
· Adept with computers
· Ability to occasionally accommodate a flexible schedule to meet work requirements (early morning/later day)
· Appreciation for modern and contemporary art
Application Instructions: Please complete an application located on the Museum's website: https://whitney.org/About/JobPostings
About the Whitney
The Whitney Museum of American Art, founded in 1930 by the artist and philanthropist Gertrude Vanderbilt Whitney, houses the foremost collection of American art from the twentieth and twenty-first centuries. From her vision arose the Whitney Museum of American Art, which has been championing the most innovative art of the United States for 86 years. The core of the Whitney's mission is to collect, preserve, interpret, and exhibit American art of our time and serve a wide variety of audiences in celebration of the complexity and diversity of art and culture in the United States. Through this mission and a steadfast commitment to artists themselves, the Whitney has long been a powerful force in support of modern and contemporary art and continues to help define what is innovative and influential in American art today.
The Whitney Museum of American Art is an Equal Opportunity Employer. The Museum does not discriminate because of age, sex, religion, race, color, creed, national origin, alienage or citizenship, disability, marital status, partnership status, veteran status, gender (including gender identity), sexual orientation, or any other factor prohibited by law. The Museum hires and promotes individuals solely on the basis of their qualifications for the job to be filled. The Museum encourages all qualified candidates to apply for vacant positions at all levels. This description shall not be construed as a contract of any sort for a specific period of employment.
Join a network of creative professionals dedicated to advancing communities of color in arts, culture, museums and the creative economy. Upgrade your network and expand your influence in the sector with Museum Hue.
Find Mentors
Meet Leaders & Influencers
Learn about Open Calls, Fellowships & Residencies
Access Career Opportunities
Attend arts & culture centers nationwide
Hueseum Tours and Hueniversity Workshops